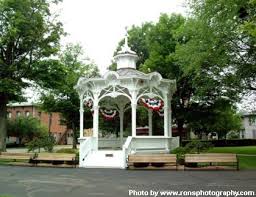 If you're looking for things to do in Ohio, look no further than the historic village of Bellville in North Central Ohio. Nestled amid the hills that line the scenic Clearfork River, Bellville is a step back in time to a slower, more neighborly way of life. Settled in 1808, Bellville was incorporated as a village in 1841 and still retains a 19th century ambiance in its appearance and its attitudes. Visitors to the quaint shops are greeted with friendly smiles and a cheery hello. Bellville's landmark bandstand is the centerpiece for holiday parades and musical performances.
Bellville, Ohio is the epitome of small town living, offering its visitors and residents at-home conveniences, such as grocery stores, gas stations, and diner-style eateries. A full spectrum of outdoor activities, lodging, restaurants, movie theaters and shopping are also available within a short drive from the village.  Bellville prides itself as the gateway to Amish Country.
Churches of many denominations provide opportunities for worship and fellowship. The Clearfork Local School System promotes academic excellence. A superior sports program brings the whole community together to cheer for their own.
Get away from the cares and chaos of the daily grind. Take a one-tank trip to beautiful Bellville, Ohio and restore your spirit. Come for a day, you may decide to stay.
Beautiful North Central Ohio
If you enjoy the out of doors, one of the best things to do in Ohio is to visit the village of Bellville. Sheltered by wooded hills and soothed by the softly flowing Clearfork River, the beauty of nature is everywhere around Bellville. In the spring, dogwood and redbud trees treat the senses. Summer brings green hillsides, farmland alive with crops, and kids and dogs wading in the shallow river. Fall paints the hillsides in vibrant red, orange and gold as the oak and maple trees shout their last hurrah of the year. The stark silence of winter, with its mantle of white, brings a fairytale quality to the landscape.
Picturesque farm houses with bright red barns tell stories of the past. Livestock graze contentedly on the lush hillsides. If you're lucky, you may even catch a glimpse of the deer, turkeys, eagles, or even one of the coyotes that populate the area.
Whichever season brings you to Bellville, Ohio, you can be sure an amazing display of natural beauty will be here to greet you.
Things To Do In Ohio – Something For Everyone
Of the many things to do in Ohio, the Bellville area of North Central Ohio offers visitors and residents the most diversity. The Clearfork River, which meanders through the landscape, provides opportunities for canoeing, kayaking, and tubing. For the fishing enthusiast, the annually stocked river is the premier brown trout fishery in the northern half of Ohio.
Mohican State Park, just a short drive from Bellville, has many winding trails for hiking and trail riding on horseback. The B&O Bike trail passes through Bellville on its 18.5 mile trek from Butler to Mansfield, affording bikers and runners alike a safe, smooth surface to enjoy. Winter sports venues, like downhill and cross country skiing, are just a short drive away.
Outdoor events, like the Prairie Peddler primitive craft show, performances at the Johnny Appleseed Outdoor Theater, the Great Mohican Indian PowWow, an Old Time Farming demonstration, and the Log Cabin Days exhibition where Amish craftsmen share their skills, are all less than an hour drive from the heart of Bellville.
Visit Kingwood Center Botanical Gardens, browse the Mansfield Museum of Art, tour the gothic Oak Hill Cottage and author Louis Bromfield's Malabar Farm.
It's all here waiting for you. Come, visit us in Bellville, Ohio. You are always welcome here.
Contact us today for more information.